RECENTLY ON - 2001-2002
Lecture Demonstration on Kathakali - Clubs, University & Colleges.

Performance - temples and Fine Arts Societies

Lecture classes on Kathakali, allied arts and Natyasastra

Gurukulam Camp at Sree sankara School of Dance, Kaladi, Kerala - Continuing

This year's Gurukulam Camp - 1st and 3rd weeks - April, 2001. Details phone :91-484-464189. Fax-91-0484-462501.Email: bharathamuni@satyam.net.in


C.P.Unnikrishnan
B.Sc[hons], M.Sc. M.Ed.,
Dip[Fine Arts], Dip[Vedanta]

Where am I
Murmured the inner self
None the less
One could find me where!
Hallo circumambulates
Around the cosmic hole
Black as they are
I cannot be there.
No! says the inner voice
Thou art within
The Glow of Darkness
Search, said the Searching light
But the circuit remained open yet
I closed it and found
The lamp was gone
Yet leaving the ligt soft and sound.

PLEASE MEET ONCE IN A WEEK
On the contacts above our faculty might be able to give you something interesting and usefull. This area can be utilised even by research students all over the world, who are working on the art forms of Kerala.Contact me at:
bharathamuni@satyam.net.in
getting Rich in WISDOM's WAY
Art, Science, Philosophy and Religion are the 4 essential components of any culture. Philosophy is an attitude, Religion is a way, Science is the curiosity about and art is to wonder at THE GREAT PHENOMENON CALLED LIFE.

Let us step on the PAST stretch through the PRESENT to touch the FUTURE. Thus CULTURE has to be Preserved, Transformed and Transferred, by all generations.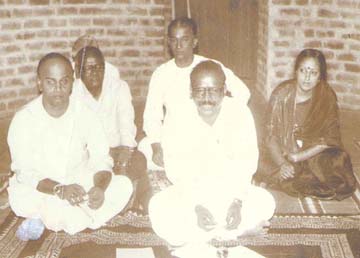 Education Minister, Tamil Nadu Inaugurating Unnikrishnan's Lectures on Bharata's Nayasastra
Seated fro left -Unnikrishnan, University member, Minister - at the centre, V.P. Dhananjayan (the man behind), Dr. Padma Subrahmanyam.
bharathamuni@satyam.net.in